at six residences
The perfect home away from home, for long-stay travelers
At Six Residences is an elegantly designed, comfortable long-stay option of 32 apartments with a variety of service levels to choose from. Located in the buzzing heart of Stockholm's business district, these apartments come with all amenities that Hotel At Six has to offer, such as cleaning service, in-room dining, pet care, top level security, and concierge services. At Six residencees enjoy the same VIP privileges as the guests of Hotel At Six do at our bespoken restaurants, the bistro and a magnificent rooftop bar located in the building. Just a footstep away is the shopping area, the business district and Stockholm's lively restaurant scene.
Being the first of its kind in Scandinavia, At Six Residences is the perfect home away from home for long stay travelers.
Top Floor

A giddy rooftop terrace, exclusively available for At Six Residencees only. This patio with an eagle´s view over the chimneys and bridges of Stockholm hosts 80 to 100 standing guests or 30 comfortably seated. The space is equipped with an anonymous direct-door to Stockholm Under Stjärnorna – the starry outdoor bar of choice for the causally trendy Stockholmers.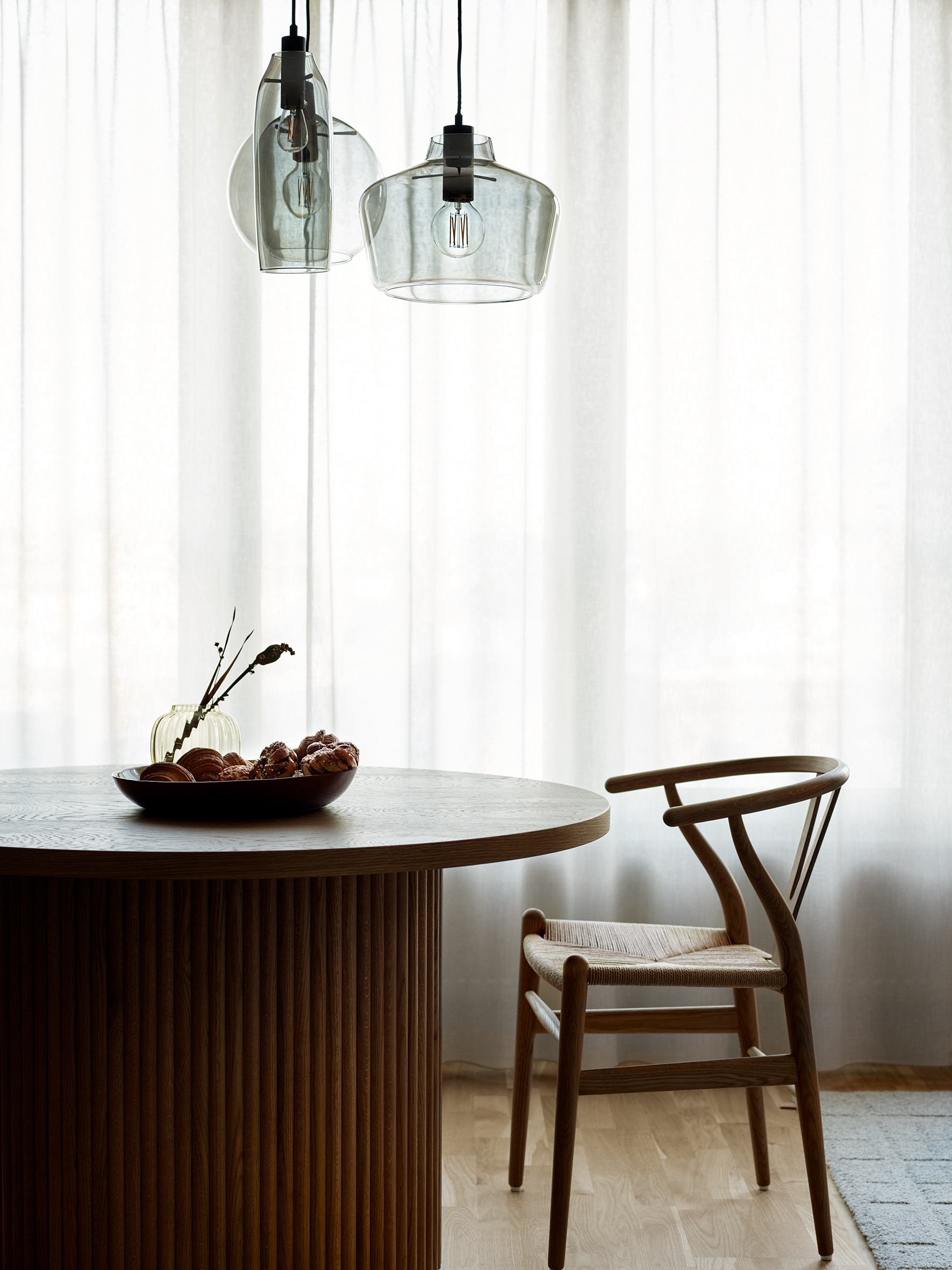 The apartments
Executive Suite
The  four executive suites are located on floor 14 and 13, the top floors of the building. Being our biggest apartments, these generous 58 sqm of up-in-the-air residences, feature stunning panoramic views of the Stockholm skyline outside as well as delicate Scandinavian art and design on the inside. Here, Carl Hansen chairs play fine with hand woven rugs by Kasthall and contemporary art pieces chosen by curator Sune Nordgren – the master mind not only for the art selected for At Six but for the entire Petter Stordalen Hotel art-portfolio. With the aim to make life on top even a little bit more smooth, the suites are equipped with a wine fridge and a steamer closet. Secretly located on the 13th floor is one of the town's most lavish hideouts: a grand private balcony exposing the majestic view of Östermalm and Djurgården.
Premium
The four apartments on the 12th floor are delicately designed in a bright color palette. Details such as leather closets and Scandinavian monochrome textiles are prominent throughout the apartment. You will find white marble in the kitchen and details of carved wood in the bathroom. This floor offers two apartments at 50 sqm facing Regeringsgatan with a stunning view over Stockholm rooftops + two slightly bigger apartments of 54 sqm facing the impressive brutalistic hotel facade of At Six.
Superior
Our twelve Superior apartments are located on the 9th, 10th and 11th floor. These apartments fully embrace the bold and dramatic colors and dna of Hotel At Six: a darker and grey-toned palette that gives the apartments a noble, calm and subtle atmosphere. Each floor hosts two 50 sqm apartments facing Regeringsgatan + two apartments of 54 sqm that face the hotel courtyard.
Standard
These studios are perfect for guests with high preferences on prompt service and modern design in a home. The Standard apartments have less extras included, but the full list of services available to add on at any time. These apartments fully channel the idea of being a great location on the best adress, with a variety of options at hand.
Floors 5 and 6: Two apartments facing Regeringsgatan.
Floors 8 and 7: Four apartments facing Regeringsgatan + four apartments facing the hotel courtyard
Standard apartments facing Regeringsgatan are 50 sqm. Standard Courtyard apartments are 54 sqm.
Room Amenities
Scandinavian design interiors

Fully equipped kitchen

Two 50"-TVs, Wifi, Chromecast/AppleTV &

Sonos HIFI-system

Access to rooftop with view over central

Stockholm

Laundry facilities with Washing Machine

and Dryer

Extra bed available in Executive Suites and Premium
Services
24 hour Reception & Security

Laundry facilities

Business Center & Co-working Space

Weekly Cleaning

Fully equipped kitchen with dishwasher and

utensils

Access to rooftop with view over central

Stockholm
Additional services
Breakfast Buffet

Child care/Baby sitting

Animal services/ Pet care

Medical care

Parking Spot / Car Service & Personal driver

Personal shopper

Butler Service

Massage treatment

Tailoring

Hairstyling

Personal Trainer and gym access

Concierge & VIP Services